Mineral Fillers: The Quality to Fill Many Needs
If you're looking for a high-quality, inert, heat-resistant filler for just about any application, you've come to the right place. Our mineral filler is the right choice for what you need – from construction to manufacturing and everything in between.
Mineral Filler Advantages
Chemically inert
Heat resistant
Low free silica content (less than 0.1%)
Asbestos free
Non-toxic, passes TCLP analysis
Available in bulk or jumbo bags (4,000 lb.)
Can ship by rail, barge, bulk truck or bulk bags
Mineral Filler Uses
Cement manufacturing
Brick and tile
Sealcoating
Anti-skid surface
Glass bottle manufacturing
Pavement and asphalt
Engineered fill
Contact us to place your mineral fillers order today!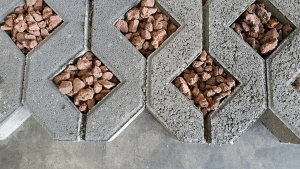 Block Manufacturer Uses Mineral Filler to Add Mass
Occasionally, materials call for reinforcements. Blacklock Block Manufacturing uses U.S. Minerals' mineral filler as an additive complement to create more mass in their concrete manufacturing plant pavers and construction blocks.
Project: Create more mass in concrete manufacturing plant pavers and construction blocks
Location: Blacklock Block Manufacturing in Butte, MT
Product: U.S. Minerals Mineral Filler